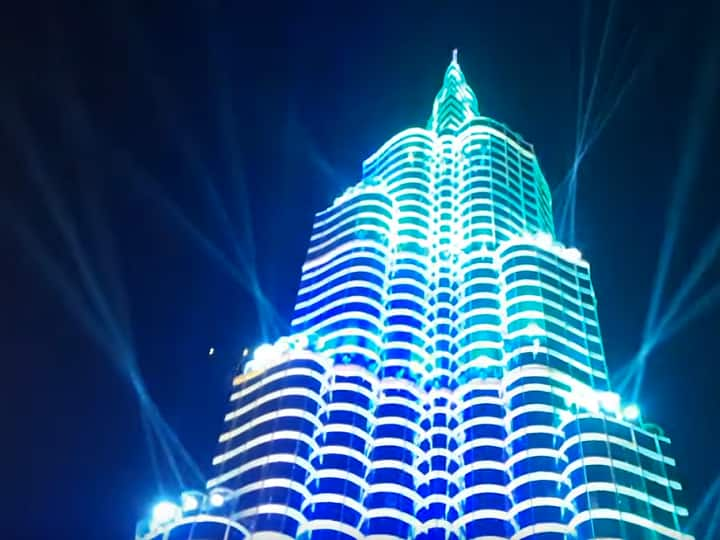 The Burj Khalifa, one of the largest monuments in the world, is now built as a Durga Puja pandal in Kolkata. This monument is as beautiful and sparkling as the tallest building in the world, Burj Khalifa in Dubai. The specialty of this Burj Khalifa is that there will be an idol of Durga Maa in it and along with it there will be worship.
Dubai's iconic Burj Khalifa will be replicated at the Sreebhumi Sporting Club pandal Kolkata. Under the patronage of State Fire and Emergency Services Minister Sujit Bose, special lighting arrangements will be made in the pandal of Lake Town to give it a majestic look.
What are the specialties of this Burj Khalifa?
The specialty is that you can see the tricolor as well as all the other colors and listen to the chanting of holy scriptures. But this is all in Kolkata because if you haven't got a chance to go to Dubai then you can at least come to this pandal and have darshan of the Goddess and also enjoy the visit of Burj Khalifa.
"It is a very tall building and it has good lighting as well as we see. It is different in the day and different at night. People will love it because everyone is able to go to Dubai. They are here in Kolkata. Will be happy to see Khalifa. We have built Big Ben's clock tower in Kolkata which people are liking. We have also made metro from our CM's corporation and people are liking it too," Bose said.
Presenting #BurjKhalifa in Kolkata !
Outstanding … highest #durgapuja #pandal by #shreebhumi Club this #Navaratri !@sujitboseaitc pic.twitter.com/2gIvZgteiQ

— MANOGYA LOIWAL Manogya Loiwal (@manogyaloiwal) October 7, 2021
It is not only a replica of the tallest building in the world but also the tallest Durga Puja pandal in Bengal. This stunning building is completely a copy of the bi-shaped Burj Khalifa but the difference is that you will not find a lift in the interior. Although it is only a copy of the replica so it is about 150 feet high but its height is about 3000 feet of the original building.
Kolkata's Burj Khalifa was built in 250 days
It took them around 6 years to build Burj Khalifa but it took about 100 workers for 100 days to make it and the effort paid off and the result is that the decorations, lights will make you feel more excited for Durga Puja.
Sujit Bose told that "I have seen Burj Khalifa but the main worker Romeo was sent to Burj Khalifa. We sent him he saw it and got an idea. 250 people worked for 2 months after which Burj Khalifa is made. Our We have created enough height in proportion to the original height of the area we have."
The pandal is about 150 feet high and 100 workers or laborers were given 100 days to build it. Burj Khalifa in Dubai required 6 years to be built by many people but this monument has a unique feature. Acrylic sheet has been used which is expressing the sparkling image of this monument. More than 300 lights have been installed.
following the rules of covid
Some rules will be kept in mind by remembering the rules of Kovid. No one will be allowed inside due to Kovid, so whoever comes to see the pandal will have to look from outside and take pictures from there. If we talk about Burj Khalifa, its uniqueness is that visitors will be able to see different colors, because the whole building is made of about 6000 sheets of acrylic, which is a special material and this acrylic mirror has a reflection effect. Lets that light, that about 300 lights can be seen.
West Bengal Fire and Emergency Services Minister said that "Before worship is known as COVID protocol. 10,000 people of our constitution have been vaccinated and second dose for all clubs in our constituency will be done in November. Keeping aside, everyone in our club has got the second dose of the vaccine."
people like it a lot
Pallavi Ghosh, one of those visitors who has never been to Dubai but was amazed to see this pandal said that "I haven't been to Dubai but actually got to see Burj Khalifa here in Kolkata. It's very nice. Its lighting is very nice. So that it is visible from far away. I have come to Sreebhumi for the first time. I have heard about the pandal here for three years but this is the first time I have come to see it."
Kavita Hazra couldn't control the excitement after seeing the pandal and said "I see Burj Khalifa for the first time, I have never seen it before. I love the light decoration and the interior decoration is also very beautiful and I love it "
The organizer of this pandal, Sujit Bose, has taken care that the building should be seen as a Y-shaped building like the original Burj Khalifa. On the other hand, Laxman Aggarwal told that "I feel very good, it feels like I am in Dubai, because I have never been to Dubai, so by looking at it, I can get an idea that Dubai is made in this way. Nice and the light decoration is also good, it gives the charm of Dubai."
State Fire Minister Sujit Bose said, "We do something every year. Once Kedarnath temple, sometimes Puri temple, we had once made the set of Bahubali and once made an opera from Paris. We always do something like this. We focus on making international and national monuments known by the people. This time we have built Burj Khalifa which is the tallest building in Dubai. Everyone around the world knows about Burj Khalifa. This is the 49th year of our worship whose So we have decided to build Burj Khalifa."
Maa Durga will be wearing 40 kg ornaments and the idol will be seated inside Burj Khalifa.
"The idol is beautiful and has a 'Shabeki' idol with cloth made of clay. It is made by Pradeep Patra Pal and it has jewellery. It is also sponsored by Senco this year. The idol will carry 40 kg of jewellery," says Bose further explained.
Laxman Aggarwal, businessman says, "I feel great, feel like I am in Dubai, because I have never been to Dubai, so looking at this I can get an idea that Dubai is made of something like this . It is very nice and the light decoration is also good, it gives the charm of Dubai."
Read this also.